Akwesasne Local Business and COVID-19 Travel Updates
Akwesasne cares about the health and safety of our residents, workers, and visitors. As loyal customers and visitors alike, we are looking forward to welcoming you back to the territory of Akwesasne. We have incorporated new COVID-19 health and safety control measures to protect you, our local businesses, and our community.
REOPENING INFORMATION
Akwesasne is reopening for our loyal customers and visitors with the guidance of the Saint Regis Mohawk Tribe (SRMT) and the Mohawk Council of Akwesasne (MCA) and their reopening protocols. We ask that you please respect the health and safety control measures set in place by our Akwesasne local businesses. We are all in this together. The following protocols will help keep everyone healthy and safe.
PLAN AHEAD
For the best experience, it is recommended that you plan and call ahead to ensure a local business is open before you arrive. Due to the unique location of Akwesasne, some protocols may differ from the U.S. and Canadian portions of our territory.
LOCAL PROTOCOLS
Masks are now mandatory whether services are provided indoors or outdoors, including pickups, deliveries, etc.
Social distancing of six feet/2 meters should be maintained at all times, including indoor and outdoor services or events.
Capacity limits are identified in most places to ensure social distancing.
Sanitization stations are readily available at all Akwesasne local businesses.
Mobility impaired persons require additional space, so please provide the extra distance to allow safe passage.
Washing hands thoroughly for twenty (20) seconds and use hand sanitizer when and where available.
Prepare by bringing your own health and safety supplies, such as a mask, hand sanitizer, and tissue.
Stay home if you're sick or not feeling well, or become ill.
Gatherings should be avoided. Current guidance includes recommendations of ten (10) people indoors and twenty-five (25) people outdoors.
ATTRACTIONS AND ACTIVITIES
Most attractions and activities are open with new health and safety control measures in place. We recommend you plan and call ahead to confirm new hours of operation for any Akwesasne local businesses. Below are the health and safety control measures you should expect to follow:
DINING
Most restaurants are now open with new health and safety control measures currently in place. Some restaurants now offer take-out and delivery services. Most dining rooms have limited seating to allow for a safe, comfortable, and spacious environment. However, to avoid potential exposure and the spread of the COVID virus, it is recommended that dining be limited to members of your family bubble.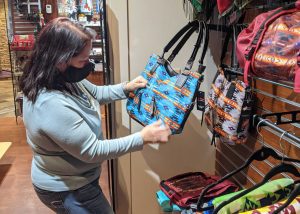 RETAIL
Local retail and gift shops in Akwesasne continue to reopen and follow COVID guidance to provide a welcoming, healthy, and safe environment.
HOTEL ACCOMMODATIONS
Hotel accommodations are now open and welcoming customers with increased health and safety control measures, sanitization protocols, and specific capacity limits. Please plan and call the hotel/motel directly before your stay to ensure you have the latest COVID health and safety control measures
Comfort Inn & Suites Adj To Akwesasne Mohawk Casino
The Comfort Inn & Suites has updated its guest services and operations in line with COVID-19 health and safety protocols. Choice Hotels have removed hot breakfast for the foreseeable future. Here are the new COVID health and safety protocols:
Face coverings must be worn by all guests and staff, including public spaces.
Social distancing of six feet (6-ft) should be maintained at all times, including indoor and outdoor services or events.
Temperature checks are mandatory for all guests at check-in time.
The elevator capacity limit is two (2) persons of the same family unit.
Front entrance (electric doors) are for all guests' arrival.
Side entrance doors are designated for guest exits/departures only.
The fitness room has strict capacity limits and access.
The pool area has a strict capacity limit and access.
Housekeeping services are limited to registered guests only.
Public spaces and rooms are cleaned and sanitized with EPA-approved cleaners.
Sanitization seals are applied when guest rooms are cleaned and sanitized.
For more information, call (518) 358-1000 or visit their website.
Akwesasne Mohawk Casino Resort
The Akwesasne Mohawk Casino Resort has reopened to the public with extensive health and safety protocols to keep visitors and employees safe during the COVID-19 Pandemic. There are reduced hours and limited capacity in the casino, restaurants, hotel, and other facilities at this time. The spa, Bingo, buffet, and valet are closed until further notice.
Current protocols include:
Guests must reside within a 300-mile radius.
Guests, team members, and vendors are required to wear a mask.
All guests and associates will be screened at entrances with a non-invasive temperature scan.
Smoking indoors is temporarily prohibited. Guests may smoke outside in a covered, designated smoking area.
Nightly deep cleaning and disinfecting.
Plexiglas barriers have been placed in various areas, including the cashier's cage, front desk, gift shop, table games, and points of sale.
Social distancing floor markers have been placed throughout the property.
Hand sanitizing stations are available throughout the property.
The Resort is operating at a reduced occupancy to maintain social distancing guidelines.
Machines will be sanitized after use by the Clean Team. Guests also have the choice to use provided cleaning wipes to clean the machine before use.
There are separate entrance and exit doors.
AMCR wheelchairs will not be available at this time.
For more information, contact the property (518) 358-2222 or visit their website.
INTERNATIONAL VISITORS
The territory of Akwesasne sits on the U.S.-Canada international border. At this time, the Canadian border remains closed for non-essential travel (including visitors from the U.S.). Please plan ahead and be mindful of the places you are trying to visit while COVID-19 travel restrictions are in place. Should you wish to remain up to date with border information, please review the following border services websites U.S. Border Protection Service or Canada Border Service Agency.
For more information on the territory of Akwesasne and our current COVID-19 Pandemic protocols, please do not hesitate to visit the following:
U.S. visitors can find more information on Saint Regis Mohawk Tribe's protocols on their website and by contacting (518) 358-2272 or emailing eac@srmt-nsn.gov.
Canadian visitors can find more information at Mohawk Council of Akwesasne by visiting their website or contacting (613) 575-2250 or emailing eoc@alwesaen.ca.