About Us
Akwesasne Travel is the official Destination Marketing and Management Organization (DMMO) for Akwesasne and is based out of the Office of Economic Development of the Saint Regis Mohawk Tribe located in Akwesasne, New York.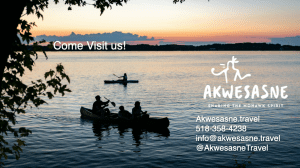 Since 2008, the Akwesasne community has had a vested interest in the development of cultural tourism to restore our cultural heritage and provide alternative employment opportunities. Many reports and documents followed including Sharing the Spirit (2008) and the Akwesasne Comprehensive Community Development Plan (2009), which once again identified cultural tourism as an opportunity for economic development.
In 2013 the Akwesasne Tourism Working Group (ATWG) was established with the involvement of several key organizations in Akwesasne. The ATWG developed the Akwesasne Cultural Tourism Strategic Plan (2014) and later refined the Akwesasne Tourism Strategic Action Plan (2016).
In 2017 the Saint Regis Mohawk Tribe was awarded the Administration for Native Americans Social and Economic Development Strategies grant to establish Akwesasne Cultural Tourism. This grant allowed for dedicated staff to pursue major areas of tourism development, including establishing a Destination Marketing and Management Organization, tour operations, tour development, and tourism infrastructure.  A U.S Economic Development Administration Grant was also awarded to the Saint Regis Mohawk Tribe in 2017 that assisted with developing a Marketing and Branding strategy.
About Akwesasne
Akwesasne is a Mohawk community situated along the banks of the St. Lawrence River. Mohawks and other Iroquois settled along the banks of the grand St. Lawrence River thousands of years ago, long before Europeans first made contact with the New World. The community today lies at the confluence of the Raquette River and St. Regis rivers, making it easy to understand why the community's earliest ancestors made their homes here.
Following the War of 1812, Akwesasne was split in two as the international border between Canada and the USA was drawn right through tribal lands. This split created northern and southern portions that lie within the Canadian provinces of Quebec and Ontario, and the U.S. state of New York.
We are Akwesasne:
Creative Community

: Connect with Akwesasne by visiting with our artisans. Their craft, which has been handed down through generations, is best shared through the stories and culture embedded in their work.

Natural Connections:

It is impossible to visit Akwesasne without feeling how nature has inspired and shaped our culture. Whether it's a walk along our rivers or uncovering the symbolism in our arts, you'll discover our connection to nature and the importance of it to who we are as a people.

Living Heritage:

Our history and traditions are not just relics of the past; they guide how we live today. From our foods to our contemporary arts, Akwesasne culture lives, breathes and guides your experience with us.
Address: 71 Margaret Terrance Memorial Lane, Akwesasne NY 13655
Email: info@akwesasne.travel 
Phone: 518.358.4238