Fire Loom: The Art & Beauty of Beaded Belts
Discover the beading technique behind authentic wampum belts
Loom beading has been practiced by the Haudenosaunee since the 16th century. Perhaps the most widely recognized example of this technique among Haudenosaunee wampum belts is the Hiawatha belt. Produced on a loom ranging from 12 inches to 6 feet in length, these belts were not worn but rather used to document agreements and events. Learn about the evolution of this cultural artform, and how host Kelly Back uses the same techniques to create custom pieces and award-winning art. 
Tour Highlights
Learn about loom beading and the artistry behind wampum belts

Handle a quahog shell, the material from which wampum is made

See the maker's extensive belt collection and works in progress

Try your hand at loom beading by making your own bracelet
Join host Mohawk designer and artist Kelly Back inside the Fire Loom Creations studio for an intimate look at loom beading as well as her own process and products. 
Guests will learn about the evolution of the artform, from the construction and symbolism of historic wampum belts to the diverse applications of today's contemporary artform. Kelly shares her own journey as a self-taught crafter turned entrepreneur and emerging fashion brand. She guides guests through her unique design process that has resulted in more than 150 custom belts for patrons around the world as well as award-winning fine art. 
Visitors try loom beading as Kelly guides them through the process of making a bracelet. The design is inspired by the Two Row wampum belt, a covenant between the Haudenosaunee and the Dutch for living together peacefully. 
Guests will leave with appreciation for Indigenous art and fashion, a bit of historical and cultural knowledge, and a memento of their visit to Akwesasne.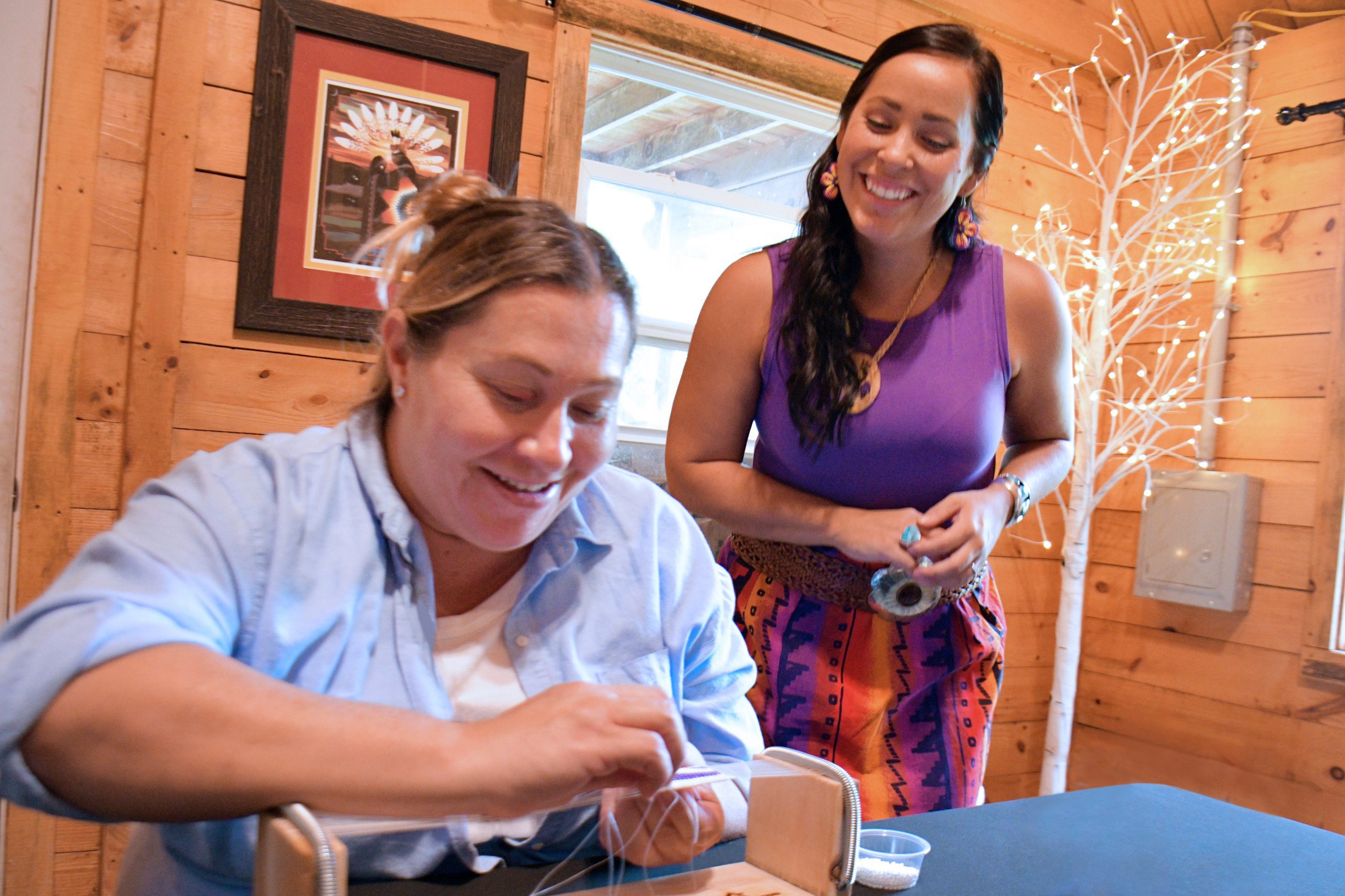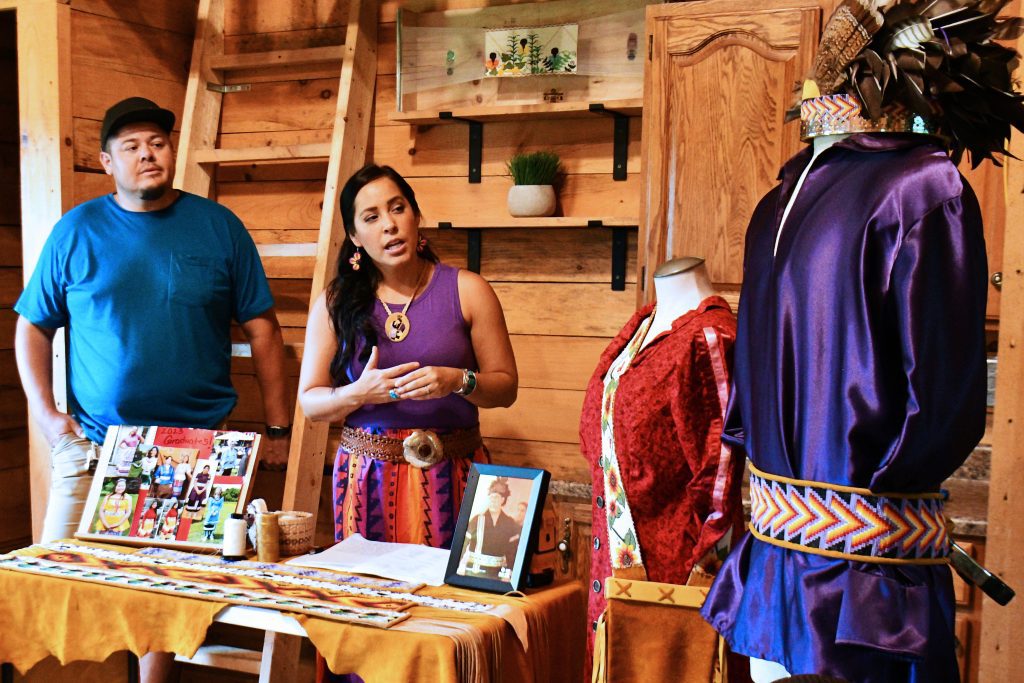 Kelly Back is a co-founder of Fire Loom Creations along with her husband, Tyson. A member of the Kanien'kehá:ka turtle clan of Akwesasne, Kelly was a self-taught young creative whose love for beadwork carried into adulthood.
Kelly made her first belt as a gift to Tyson for their traditional longhouse wedding ceremony in 2014. Their collaboration soon developed into a small family business rooted in creative expression. Since then, they have made more than 150 custom belts for ceremonies, weddings, graduation, artist showcases, and fashion shows. Fire Loom Creations has also produced award-winning art pieces for competition and museum display. 
The focus and repetition of loom beading is healing, says Kelly. The couple gets to know each customer during the concept phase, as many often prefer to include symbols representing relatives or important moments. Appreciating the time, detail, and complex design work that goes into each belt, they feel great pride and joy in handing over a finished piece to its new owner.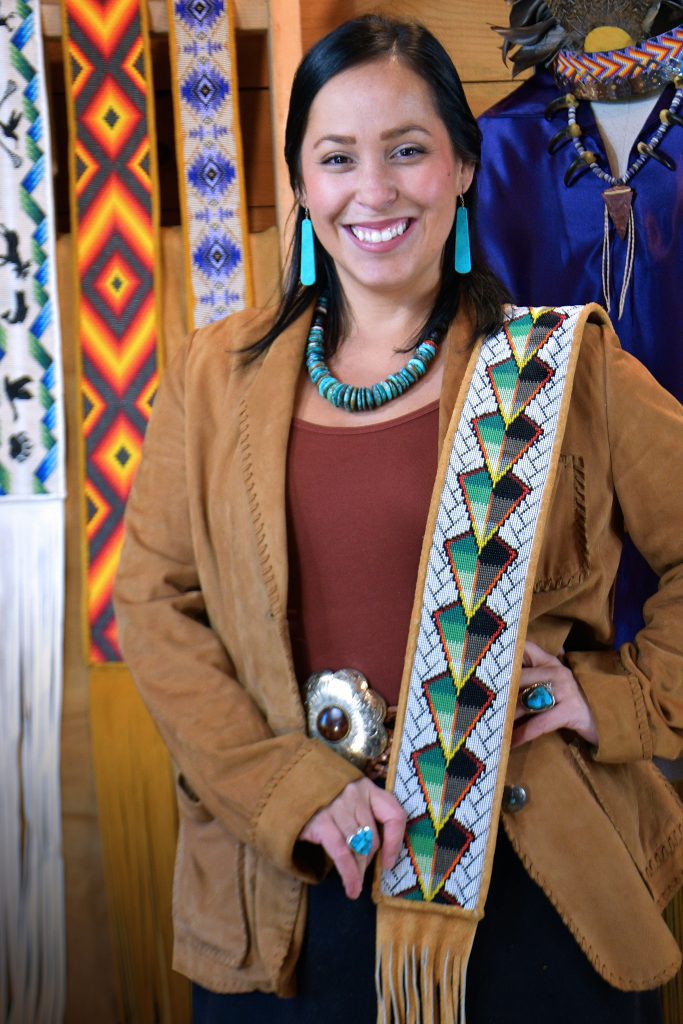 What To Bring
Reading Glasses
Water
Comfortable clothing
What's Included
Loom kits for bracelet
Light refreshments
What's Not Included
Transportation to the tour location
Public Restroom
Tour Price
| | | | |
| --- | --- | --- | --- |
| Tour Group Size | 1-2 Guests | 3-6 Guests | 7-10 Guests |
| Tour Price Per Guest | $174.00 | $129.00 | $99.00 |
All Prices in USD $
Minimum group size = 2 guests
Maximum group size = 10 guests
FAQs
Planning your visit but have some information needs? Check out our Frequently Asked Questions page that covers everything from weather to directions to local dining and lodging options.