Mohawk & Akwesasne Basketmaking
You will find stunning, intricate Mohawk baskets throughout Akwesasne. These hand-woven creations adorn shelves and decorate office buildings all over the Akwesasne nation. According to the Akwesasne Museum & Cultural Center, Black ash splint and sweetgrass basketry are some of the defining features of Akwesasne Mohawk identity.
We are said to have the highest number of basket makers in any one community among the Iroquois Confederacy. Just ask someone you meet if they make baskets or if a relative does and they will likely answer yes.
History of Mohawk Baskets
While no one knows exactly how long Mohawk people have been making splint baskets, splint fragments have been found in the Northeast United States that date back 3,000 years. Our tradition of basket making has persisted over time and ties us to the land where our basket making materials are harvested. Historically baskets were created for specific uses. Work baskets were used as bags, fish traps, to store and wash corn, or for other uses like laundry hampers. Later baskets were woven for more decorative purposes and created for trading with the area's settlers. Today these are called fancy baskets. Most of what you will see at gift shops are fancy baskets, but you can also buy more utilitarian baskets that are purses and backpacks. 
Dive into our tradition of basket making, we are sure at the end you will want an Akwesasne basket of your own to take home. 
Materials
Traditionally Mohawk baskets are made from Black ash splints and sweetgrass, which are both native to Akwesasne. Various natural and synthetic dyes are used to color the baskets. Basketmakers usually source their own black ash, which typically grows in wetter areas, to use in their baskets, and often learn how to harvest black ash from elders or older relatives. Black ash is the preferred material because it is easy to pound into thinner, flexible splints for the baskets that remain strong throughout the process. Black ash trees are a precious resource and grow slowly—they take up to 50 years to mature.  These trees are being threatened through habitat loss and invasive species, like the emerald ash borer, which has infected some of the ash trees in Akwesasne, threatening the Black ash population and putting this important cultural tradition at risk. 
Sweetgrass is used to bind some of the baskets together and grows throughout Akwesasne. Sweetgrass is prized for its pleasant aroma, pale color and pliability. Harvested in the summer, sweetgrass is typically cut instead of pulled out at the root to preserve the plant for other basket makers. Akwesasne basket makers pay attention to the environment when sourcing their materials and honor the land, therefore efforts are being made to preserve the Black ash species locally.  
Technique & Design
You will see work and fancy baskets of all different styles and techniques. They are all tightly woven and sturdy with different embellishments and design elements like curls and flowers. Some baskets feature traditional motifs like strawberries and plants, which play a role in the Mohawk creation story.  While you might see basket-making demonstrations, basket-making is considered sacred to Akwesasne and most techniques are not taught to people outside of the community.
Modern Basket Makers
Akwesasne is home to a whole crop of young basket makers putting their own spin on the ancient craft. Carrie Hill, the owner of Chill Baskets, learned basket making from her aunts and has since turned the art form into her full-time profession, making innovative baskets with colors, designs, and shapes of her own. She also makes wearable woven jewelry. Her cousin Ann Mitchell, of Dream Weaver Basketry, is also known for her modern and colorful baskets, a few of which are on display at the Akwesasne Cultural Center & Museum. Ann excels at creating colorful baskets and enjoys experimenting with different color and design combinations like ombre and traditional and modern techniques to create a wide range of woven items like hats, vases, flowers, accessories, and more.
Mohawk Made is also known for their fancy baskets and was started by three local basket makers: Sheila Ransom, Debbie Cook-Jacobs and Nanci Ransom. Each of these ladies brings their own passion to basket making and have a combined 60 years of experience making traditional Mohawk baskets.
Where To See & Buy Mohawk Baskets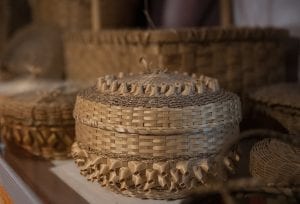 The Akwesasne Cultural Center & Museum has a sizable collection of magnificent Mohawk baskets on display. Learn how they're made and the significance of each piece. Don't miss Onkwátherékó:wa or "our big basket," currently on display at the Cultural Center. The piece represents the importance of basketmaking and the talent of our community. Some 30 Akwesasne basket makers took part in its construction in 2017.
The Native North American Traveling College, has an extensive splint basket collection, from large utility vessels to intricate miniatures.
Mohawk baskets are also for sale at several places in Akwesasne and are usually priced based on the experience of the maker and intricacy of each basket. You can buy them at the Akwesasne Cultural Center & Museum gift shop, the Native North American Traveling College gift shop, Akwesasne Bookstore and several other local gift shops. You can also commission baskets and buy them directly from artists.